Information updated March 2022
Independent School District 424 is a pre-k through 12th grade facility located at 131 Hickory Street North in Lester Prairie.
• Office 320-395-2521
• Superintendent Dr. Melissa Radeke
• Principal Mike Lee
• Activities Director/Dean
of Students Jenna Wolff
• website: lp.k12.mn.us
• Twitter: @LPHTBulldogs
• Facebook: @lp424
Lester Prairie is a small school with big opportunities. LP Schools currently have 475 students enrolled with an average grade level size of 36 students. The average elementary classroom size is 20.
Lester Prairie High School offers a wide range of classes to support the wide range of interests our students have: College in the School, PSEO, College Online courses, and Concurrent Certified Technical Education (CTE) courses.
You can do it all at LP Schools. More than 65 percent of the junior and senior high school students participate in extracurricular activities, such as drama, robotics, band, athletics, and Knowledge Bowl, to name a few.
Lester Prairie Schools recognizes the strong community support and the success it creates for our students who have gone on to participate in regional, state, national, and international competitions the last several years.
Building project
The school district appreciates the Lester Prairie community for supporting a building addition and renovation that enhanced the academic and extracurricular opportunities and aesthetic experience for students.
In 2020, the Lester Prairie School District began work on a $13.65 million building expansion project that improved safety and addressed space needs. The school district hosted a community open house that took place August 30, 2021.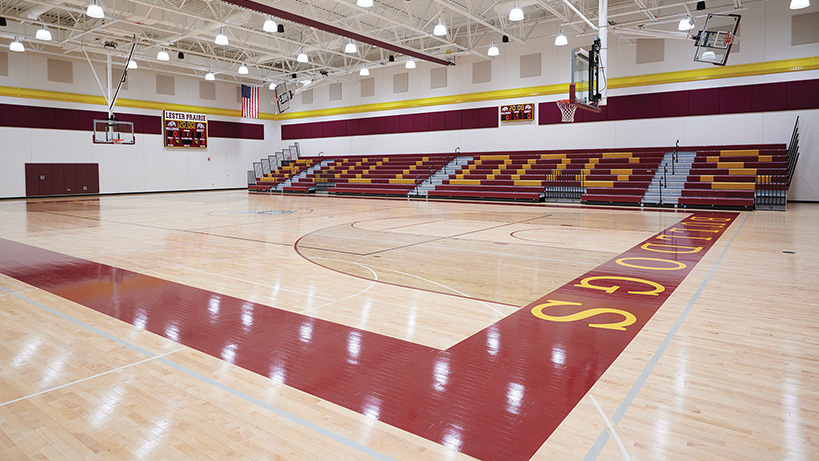 The key components included:
• Secured entryway
• Student drop-off area Improvements
• New paved parking space
• New kitchen and serving area
• New cafeteria
• Restrooms
• Office improvements
• Receiving and storage area
• Converted kitchen/cafeteria to classrooms
• Industrial tech. addition
• Early childhood addition
• New gymnasium
• Fitness Center
• New locker rooms
• Concessions area
If you are interested in enrolling your children, or would like to schedule a tour, please call the district office at 320-395-2521. We would love for you to become part of the LP family. Go Bulldogs!