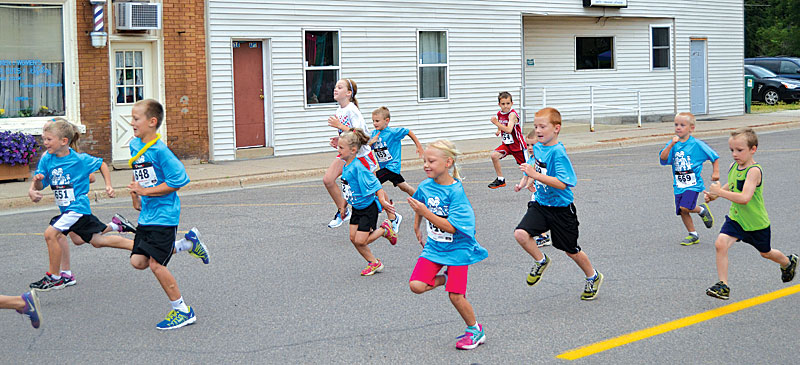 Many children participated in a fun run during the Prairie Days celebration.
Throughout the year, Lester Prairie residents and visitors have many opportunties to get together and celebrate.
Prairie Days
Prairie Days is a well-attended summertime event featuring contests, games, food, fireworks, and music set for the second weekend in July.
Many activities are planned such as a human foosball game, talent show, disc golf tournament, kiddie parade, grand parade, fun run, and more.
The Prairie Days committee is always looking for commodore and grand marshal nominees. For details, contact Melissa Williams at (320) 395-8433.
Dairy Days 
Lester Prairie's annual Dairy Days celebration includes several dairy-themed activities, including a medallion hunt with the "3 every day" logo.
Garage Sale Day
Garage Sale Day in Lester Prairie has been a tradition since 1980. The event takes place in September, with 80 to 100 sales in the area. For more information, contact Charlotte Ehrke at (320) 395-2097.
Holiday festivities
Before Christmas each year, children enjoy visits with Santa Claus. In 2015, festivities took place at Lester Prairie City Hall, and included a bake sale and craft fair to raise money for the Lester Prairie Youth Task Force.
Baseball/softball programs
• Youth baseball/softball: For boys and girls preschool to age 18. Contact volunteer Jeff Engen at engenjeff@hotmail.com or (320) 395-9839; or go to www.lpbaseball-softball.org.
• American Legion baseball: For boys ages 15 to 18. Sponsored by Ray Kirkpatrick Legion Post 463. Contact Mark Detlefsen at (320) 395-2813.
See also:  Dakota Regional Trail | Swimming Pool